I don't know if you've heard about Magic Spoon Cereal or not, but it's positioned to be a healthy replacement for the cereals we loved as kids (and adults) with none of the sugars or odd chemicals and more protein.

I found out about them them on a sponsored YouTube video last year. You know how those things go… is it good? Who knows. But I kinda wanted to try it.

So in November, 2021, I ordered a 4-pack of their random selection at the time, because I didn't want 4 boxes of all the same flavor of a cereal I've never tried. The flavors were Blueberry, Peanut Butter, Cinnamon, and Fruity.
My wife and I started with the Blueberry. After one bowl she bowed out of this experiment in alternative and healthy cereal. The initial flavor was not bad, but the aftertaste was harsh. I stuck with it, but the going was slow. A couple weeks later the box was down to half and I decided to try the Peanut Butter to see if it was any better. Luckily it was. The taste was good, and the aftertaste wasn't as strong.
Then I decided to mix the two – Peanut Butter and Blueberry – and that worked pretty well. It cut the aftertaste of the Blueberry down to an acceptable level, and it tasted kinda like a peanut butter and jelly sandwich.
When both of those boxes were done, I took a break for awhile. Recently I started eating the Cinnamon, and it too is pretty good.
I haven't opened the Fruity yet. I have hopes it won't be like the Blueberry.
And yes, these all (so far) have a gritty texture to them as they dissolve in my mouth. But I should be consistently brushing my teeth after breakfast anyhow, and that serves as a reminder.
On to the price. It's high, and shipping to where I live adds $4.99. But you can find online coupons to take a bit of the sting out, and if you find a flavor you enjoy, you can choose to subscribe and knock $10 off that $39 price – but I have no idea what the subscription interval is. Still, it could make it more acceptable.
Final thing: there's a way to build your own custom box selection, and not have to rely on their pre-made combo selection, but they don't make it easy to find. It's not in the navigation and a Google search doesn't turn it up, so I assume they have SEO tracking turned off, and I suspect this is because it's far easier on them to have pre-packaged "official" selections for the mixed pack, and 4 box sets for all of the individual flavors, all ready to send out the door when an order comes in. I got the link in one of their marketing emails where they were talking about their Honey & Nut flavor being back, but I wasn't interested at the time and I ignored it. I just tracked the link down again because I wanted another box of Cinnamon and Peanut Butter, along with two new (to me) flavors to try, Cocoa and Cookies & Cream.
---
Verdict: They are good enough that I'm giving them another shot. I appreciate that they are low in sugar and high in protein, and they serve as a handy quick breakfast option that I don't have to feel guilty about after eating. I just have to brush my teeth.
---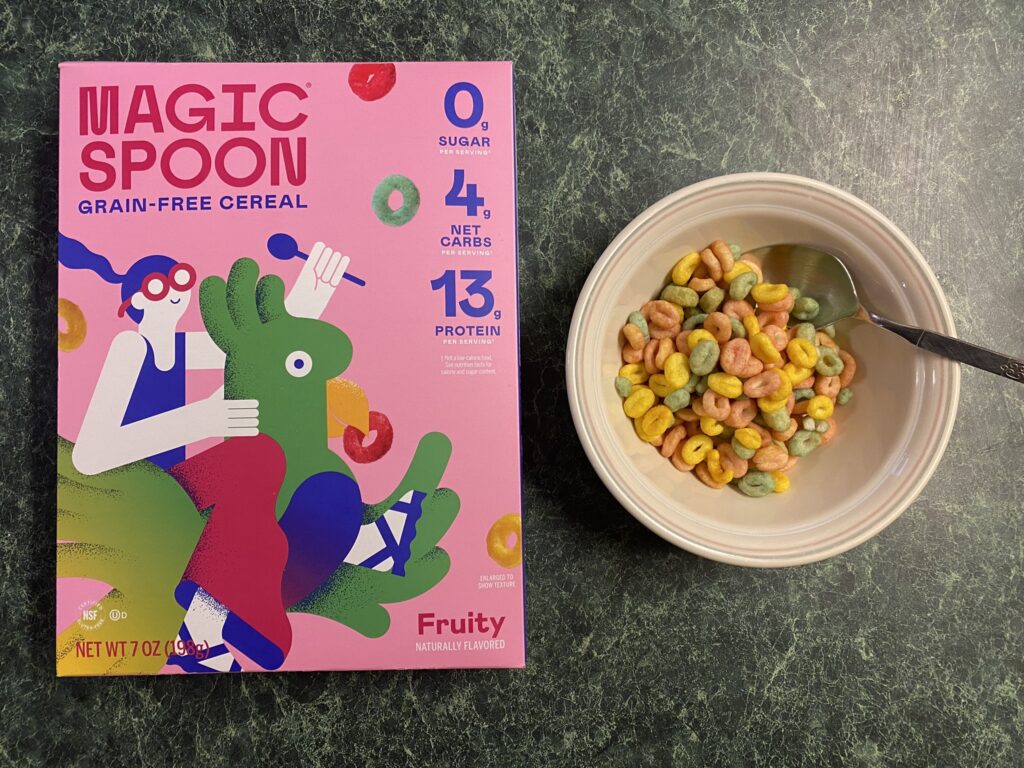 Addendum: After writing this, I decided to open the box of Fruity and have a bowl of it this morning.
First off, it smells delicious, like how I remember Fruit Loops smell – although that's going way back since I haven't had Fruit Loops in decades – only stronger.
They taste quite good as well.
There's still a grit that coated my teeth, but I think that's a base quality of these cereals that is unavoidable.
What there isn't, is the strong aftertaste that we had with the Blueberry flavor.
That means of the four flavors I've tried so far, only one was so off-putting that I'll avoid it in the future.