It's hard to believe it's been 3 years since Apple stopped supporting 32-bit apps with the upgrade to iOS 11.
If you know me, you know I spend entirely too much money on games and movies/tv shows. Maybe it's my internal escapist acting out? Or maybe deep down I love stories. All I know is entertainment is my drug of choice.
Looking through my current Purchase History I have 2,432 purchases on my account since 2003.* That includes movies, tv shows, other non-game applications, and games. But it's mostly games. I'd estimate games easily make up 2,000 purchases, if not more.
Also, to be clear, most of those games were bought either during sales if they are premium games, or when I come across something that is "freemium" that I want to try, either because it looks cool or it has an interesting gameplay mechanic. Or both.
If the "freemium" model is too egregious/rapacious – like that of "Dungeon Keeper" with its cool down timers and consumable gems that throw up walls around the gameplay unless you keep feeding them money or have the patience of a monk – it doesn't stick around on my devices for long. But it sticks around in my purchase history until something makes it disappear.
That number is also missing some of the apps I purchased and I don't know if it automatically excludes all of the victims of the 32-bit purge, but...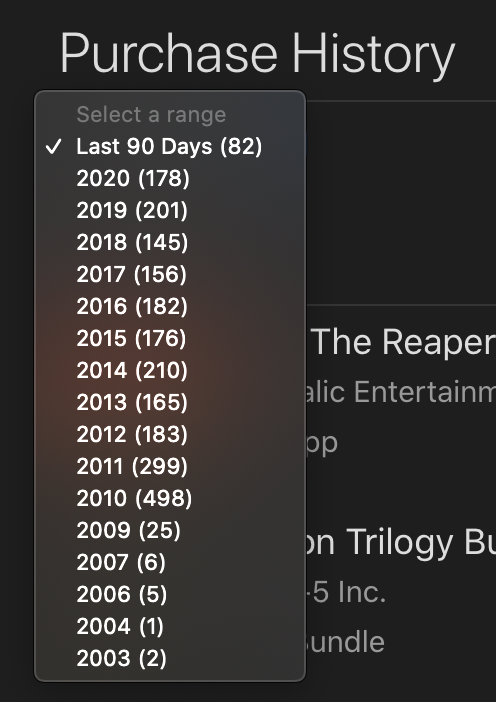 ... all I know is that I bought way more than 39 apps and games between 2003 and 2009, so something is missing.
---
Preservation of iOS Gaming History
Because Apple's iOS garden is walled, there aren't many good ways to preserve its gaming history. Hell, up until recently Apple didn't seem to give two fucks about games, even though games bring in big bucks for them, and they still don't care about preserving the history.
Enter my weak-ass attempt to help.
I have a 1st generation iPad Air that I didn't upgrade to iOS 11, no matter how many times it bugs me to, so that I would be able to play any games I bought and start to miss that haven't or won't make the leap to 64-bit.
Today I dug it out and spent a couple of hours cross-referencing what was still on it against what was available to download and play on my current(ish) iPad Pro.
I also deleted anything that could be played under the latest iOS to free up room on my tiny hard drive so I could go through my purchase history and recover some other 32-bit apps, as long as they aren't too large.
While doing that I discovered that 16 games I had on the old iPad were not only still 32-bit, they were also missing from my purchase history – and I would assume everyone else's purchase history.
At this point it's entirely possible that nobody else has access to these games, and if anything happens to my iPad, neither will I.
If you aren't an "Apple person" and don't have much experience with the way the App Store works, I'll explain.
When you buy something on the App Store, you're supposed to continue to have access to it through your purchase history. That allows you to delete something when you need to free up room, and download it again whenever you want.
The exception is when apps get delisted/cleared out, for whatever reason. Back when the apps I bought were being synched to my computer – instead of only existing in my purchase history like they "mostly?" do now – I would back up any games I didn't want to lose access to in the future.
Little did I know that the architecture behind how Apple's apps work would change, and now there's no way to restore those apps. It's all in the big happy cloud now. Whee.
If the decision is made that an app has to go – for whatever reason – it's gone, without even a kiss goodbye.
---
Gone, Baby, Gone Games
Following is the list of the 16 games I'm aware of that have been taken from my Purchase history, in no particular order. I'm sure there have been many, many more, but to suss it out would require a better memory of exactly what I've bought over the years than I have.
Brogue
MovieCat HD
MovieCat 2
Tug the Table
Wrestle Jump
Monster Loves You!
Rolling Coins HD - Candy Machine
8 Links
Citadel 1986
Missile Cards
Warlock's Tower
Super Happy Funblock
Puzzle Sweeper
Vampire Ventures
Cognition
Conquist 2
In future posts, I'm going to play each of these games, take screenshots, and write up impressions of them. I'll also try to dig into their history – when possible – and discover why they were removed from the App store entirely.
---
Really Gone Games
Argh. While writing this I remembered one game and its sequel that I really enjoyed – and bought – that haven't been updated to 64-bit, and have vanished from my purchase history.
Apparently Konami bought the rights to the game in 2014, and they are masters of turning IP to shit, so...
Those games were Sword & Poker and Sword & Poker 2.
It's annoying that I can't revisit them to see if they are still as fun to play as I remembered. I don't believe any other game has used that mechanic other than the freemium game that Konami shat out after buying the rights to Sword & Poker in 2014, called Swords & Poker Adventures.
I may give that one a shot again and see if it's better than I remembered. Fuck energy times though. Meh.
---
* Update: I decided to go through my purchase history and screenshot all the games for a future post, and I discovered a few things.
Games/apps didn't start showing up until December of 2009, before then it was all music.
From December 2009 to January 2010 I'm seeing the same apps multiple times under different receipts. Why? I have no idea. But it's going to take awhile to clean up.
The list for 2009 said 12 items, and there were many, many more than 12, even with it only starting on December 13th and the duplicates. So it looks like they did remove games that were delisted and can't be downloaded anymore for the count total. For that month I'll make note of the ones that can still be downloaded, even if they can't be played under the latest iOS.
Also, when I finally make the post that includes all of the apps, it's going to be a crazy long post. I need to figure out how I'll do it and how I'll get rid of duplicates. I saw things showing up late in January, 2010 that I bought early in December, 2009, so there's no telling how many months that fuckery will cross.